We, at Sudeep Industries, give utmost priority to Product Quality. We understand that any business, irrespective of its size and shape grows in an environment of credibility and assurance. Hence, we have an uncompromising commitment to quality consistency.
Sudeep Industries is GOTS and ISO 9001:2008 Certified Company who promises to offer excellent industry standard with quality and safety. We are concerned about the environmental issues and consistently adhere to strict pollution control criteria's, and thus have made considerable investments in our treatment plants. Our state-of-the-art plant includes advanced equipment such as R.O. plant, Softeners, large size vessels, M.S. jacketed Reactors, Glass Lined Vessels, Big Size Blenders and Ball Mills for the flawless production of dyestuffs.
Our full-fledged laboratory includes a wide range of quality control instruments
Washing fastness tester
Textile rota & infrared color lab dyeing machines moisture analyzer
Spectrophotometers are used for Colour Testing & Matching
Crock meter for rubbing fastness
Perspiro Meter for colour fastness of textiles to water, seawater, and perspiration
Light Fastness Tester etc.
Padding Machine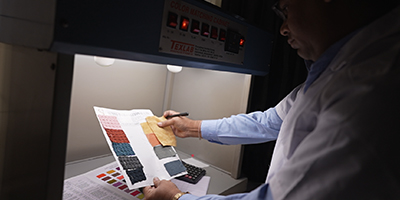 The record test results and batch samples are conserved under most favourable storage conditions, for future Standard reference. The diverse parameters that we check during the manufacturing of dyes are PH, volume control, time, and temperature. Some tests are conducted to adhere to quality compliance are coupling test, Diazotization test, Cynuration test, Condensation test, Salt content analysis (salt-free solution after R.O. process etc).
More importantly, our quality control parameters include analysis of incoming raw material, conducting analytical in-process checks and inspecting the finished products for compliance to specifications in order to ensure that the products reaching the customers meet their prerequisite quality conformance..